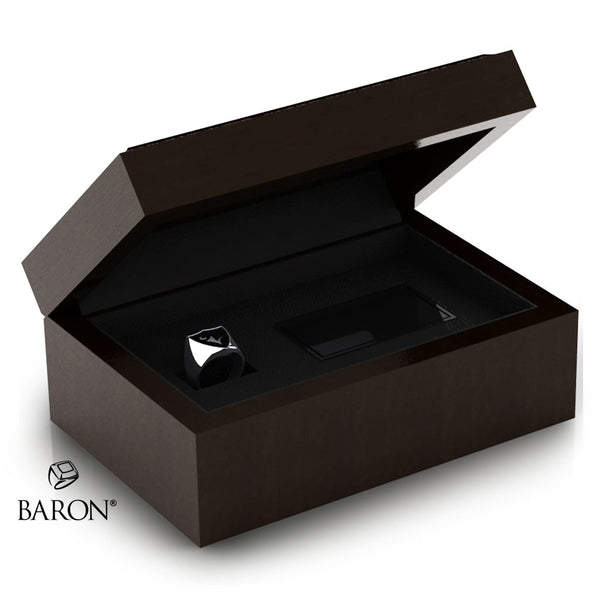 Description
Your lifetime connection as a Raven began the moment you walked on campus and it should be commemorated. 
What better way to show your Carleton pride than to wear your official Ravens ring? 
The official Raven ring is only available to Carleton graduates and students, and its design will remain the same for all alumni—past, present, and future. 
The Raven ring will be an instantly recognizable symbol of your journey --- it will strengthen the bonds between you, the university, and your fellow alumni.
This Ring will be offered in the Following Metals
Durilium

Silver

10k White Gold 

14k White Gold
A lifetime warranty for refinishing or any other warranty-related repair is included with the purchase of your ring.
Please allow 12 to 14 weeks for delivery.
Please ensure your billing address is correct and matches the same address as your credit card.
For any questions about the ring order please contact us.
JEWELLERY INFORMATION
DURILIUM: A non-precious metal developed for creating exceptional and durable fine jewelry. Boasting a rich, platinum-white finish, durilium resists scratches and will not tarnish.
SILVER:  A metal alloy (blend) containing at least 92.5% silver. 
10KT GOLD: A precious and durable metal containing 41.6% pure gold. 
14KT GOLD: A precious and durable metal containing 58.3% pure gold.
RETURN & REFUND POLICY - Please read carefully before making your purchase(s).
All orders made through this online store are considered custom orders, made as requested by the client (you), and we are not required to provide a refund if you have changed your mind about a particular purchase for any reason. Each piece of jewellery takes several weeks to create from start to finish, all depending on how you customized your order. We will not refund for "buyer's remorse". Absolutely no refunds on custom engraved merchandise and any custom-made rings. Items thought to be damaged or defective must be returned at the customers' expense and the validity of all claims will be decided by Baron Championship Rings. If the received order was faulty or damaged, we will properly meet the obligations detailed in our provided warranty.
BARON® LIMITED LIFETIME WARRANTY
Baron® offers a limited lifetime warranty against manufacturing defects on all specified Baron® Championship jewellery. We guarantee that all items sold will be free from all manufacturing defects at the time of delivery. If you believe your jewellery item has a manufacturing defect, please contact us so we may evaluate your jewellery item. 
If the customer is asked to return the item, Baron® will inspect it and then contact the customer before proceeding with any changes to the jewellery item. If a manufacturing defect is found, Baron® will repair or replace the item without charge. Baron® Limited Lifetime Warranty excludes damage caused by normal wear and tear, loss of gemstones, theft or loss of product/item, repairs made by anyone other than Baron® and failure to obtain the repairs required to preserve the integrity of the product.
All rings manufactured in Durilium can only be resized one-half size up or down. If your ring size is incorrect, the ring will need to be remade at the customer's expense.
Baron® will clean your ring and replace any synthetic stones at no charge. Repair or service performed by a jeweler or other than a Baron® specialist will void the warranty. All non-manufacturing defect repairs are subject to a $25 return shipping and handling fee, must be paid by the customer upon return of the ring.
Some examples of common jewellery issues that would not be considered manufacturing defects include:
The discoloration of precious metals caused by chemicals, make-up, immersion in pools and hot tubs, or bathing

Precious metals, and especially prongs, wear down over time and may require restoration work as part of normal wear

Prongs that, due to normal wear and tear, catch, wear out, or bend, and result in the loss of a gemstone

The loss of a gemstone caused by damage from everyday wear or from other damage